Heating & Air Conditioning in Los Angeles, CA
A professionally installed high efficiency York air conditioning, furnace, heat pump or ductless mini split from Lenco Heating & Air Conditioning will provide your business or home with year-round comfort. We provide heating, heat pump & air conditioning installation, replacement and repair in Los Angeles, Santa Monica, Culver City, Pacific Palisades, Beverly Hills & surrounding areas. Lenco represents all of the things you look for in a trusted, local Los Angeles HVAC contractor. We have been in business since 1969 and we are a  YORK® Certified Comfort Expert™ & NATE certified which exemplifies our commitment to technical knowledge.
Your relationship with Lenco starts with a complete evaluation of your current heating and cooling system, including an inspection of your home ventilation system, to ensure you are provided the right products for your needs.
Professional installation and service of your high efficiency air conditioner and furnace will mean increased energy savings that can produce a return on your investment in as little as five years. As always, our furnaces and air conditioners come complete with warranties for your protection and peace of mind.
There are a variety of York home comfort systems to consider when upgrading your home's heating and cooling systems including furnaces, air conditioners, heat pumps, mini splits and air quality products.
Lenco is your mini split installer in Los Angeles, CA. We install ductless mini split systems for quiet, energy efficient heating & cooling in homes & businesses. Mini splits require no ductwork and allow for flexible, room-by-room temperature control. We are a Mitsubishi Diamond™ Contractor.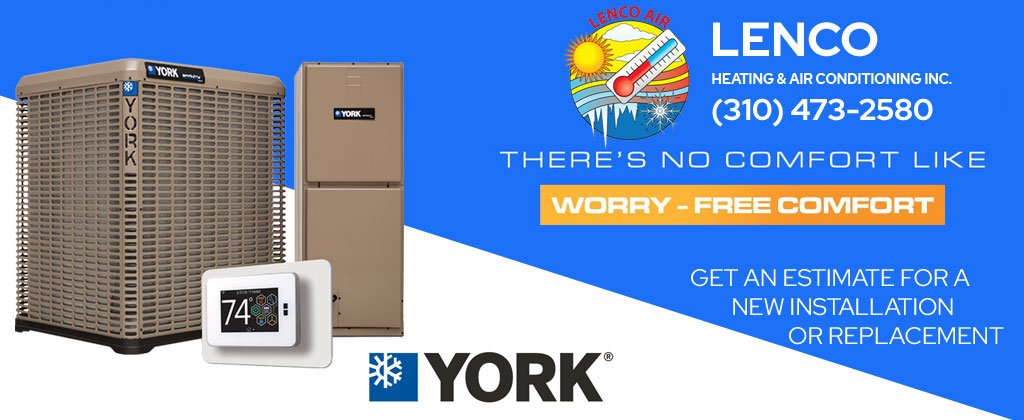 Free Estimate for Air Conditioner, Heat Pump or Furnace
Installation & Replacement in Los Angeles
When it comes to heat pump or HVAC installation & Replacement in Los Angeles, the quality of the install has a huge effect on the system's performance and efficiency. When you call Lenco, you'll have peace of mind knowing that a York®Certified Comfort Expert and NATE certified technician will provide quality installation.
Call Lenco Heating & Air Conditioning at (310) 473-2580
HVAC Maintenance
Seasonal maintenance is low cost insurance to keep your heating & air conditioning system running efficiently, while helping to avoid premature system problems. A neglected system will eventually begin losing efficiency, causing utility bills to begin creeping up each month. Our seasonal maintenance will ensure that your heating system is ready to perform when it's time.
Call Lenco Heating & Air Conditioning at (310) 473-2580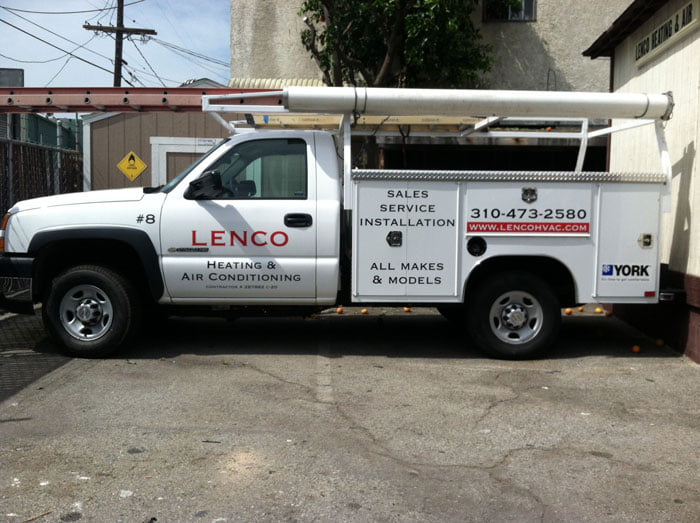 HVAC Services in Los Angeles
Your home or business should be comfortable during the summer or winter. That's why Lenco Heating & Air Conditioning provides fast, quality furnace & AC repair services in the Los Angeles area. We also offer installation and tune-up services!
Being Comfortable Now Costs Less
Like a home or automobile, buying a central heating and cooling system could be one the largest investments you'll make. But with the right energy-efficient comfort system and installation, you could see considerable savings over the lifetime of the system, which can also help offset your initial investment.
Apply for YORK® credit today to start enjoying a more comfortable home tomorrow!