Air Conditioning Repair in Venice, CA
At Lenco Heating & Air Conditioning, we understand how important it is to have a functioning air conditioning system, especially during the hot summer months in Venice, CA. That's why we offer fast, reliable, and trustworthy air conditioning repair services to keep your home or business cool and comfortable.
Whether you need a minor repair or a complete system overhaul, we have the expertise to get the job done right the first time. We offer flexible scheduling to fit your busy lifestyle and guarantee our workmanship for your peace of mind. Don't suffer through another hot and uncomfortable day, contact Lenco Heating & Air Conditioning for reliable air conditioning repair services in Venice, CA.
Trusted AC Replacement Services in Venice, CA
If your air conditioning unit cannot be repaired or is no longer efficient, it may be time to consider an AC replacement. At Lenco Heating & Air Conditioning, we offer reliable and affordable AC replacement services to keep your home or business cool and comfortable in Venice, CA.
Our experienced technicians can help you choose the right AC unit for your specific needs and budget. We offer a variety of high-quality AC units from top brands, and our team can provide professional installation services to ensure your new system runs efficiently and effectively.
We understand that AC replacement can be a significant investment, which is why we offer financing options to make it more affordable for our customers. Our team is committed to providing exceptional customer service and quality workmanship on every job we do.
If you're in need of AC replacement services in Venice, CA, contact Lenco Heating & Air Conditioning today. Our team is available to answer any questions you may have and provide a free estimate for your AC replacement project.
John H. - Santa Monica, CA
Lenco is honest and does great quality work at a great price.
I had an older, two unit system that went out. After getting 6 bids from various AC companies, I selected Lenco based on the thoroughness of thier diagnosis, friendlieness, and competetive price. They pressure tested each component of both systems to isolate the problems to ensure we were not needlessly replacing expesnive componenets, whereas other companies didn't take the time to properly diagnose. One company in particular (Brody Pennell) was so outlandishly expensive it was laughable.
Lenco did a great job with the install, multiple tests to ensure everything was working corretly, and am a happy customer.
Highly recommend.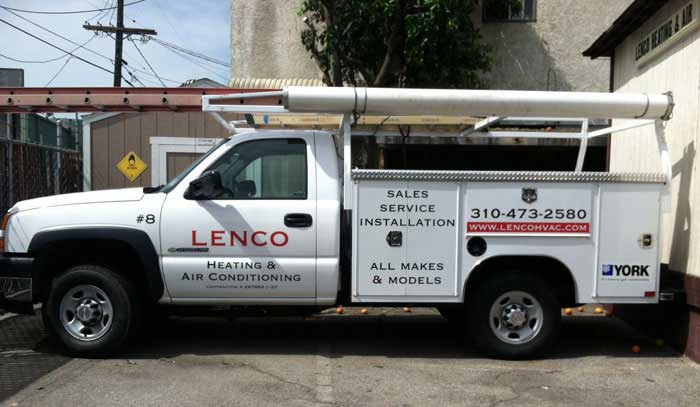 Air Conditioning Repair
in Venice, CA