Heat Pump Repair in West Los Angeles
Are you in need of professional heat pump repair in West Los Angeles? Look no further! Lenco Heating & Air Conditioning specializes in providing top-quality heat pump repair and installation services to ensure the optimal performance of your heating and cooling system. Our experienced technicians are well-equipped to handle all your heat pump needs, from minor repairs to complete installations.
Why Choose Lenco Heating & Air Conditioning for Heat Pump Repair in West Los Angeles?
Expert Technicians: Our team consists of highly skilled and experienced technicians who have in-depth knowledge of heat pump systems. They undergo regular training to stay updated with the latest industry advancements.
Prompt and Reliable Service: We understand the inconvenience of a malfunctioning heat pump. That's why we prioritize prompt service to address your repair needs quickly and efficiently, restoring your home's comfort in no time.
Comprehensive Repairs: Whether it's a faulty compressor, refrigerant leaks, or electrical issues, our technicians can diagnose and repair a wide range of heat pump problems. We use advanced tools and techniques to ensure long-lasting solutions.
Quality Installations: If you're considering a new heat pump installation, our experts can help you choose the right system for your home. We work with top-quality products and ensure proper installation to maximize efficiency and performance.
Affordable Pricing: We believe that everyone deserves access to reliable heat pump repair without breaking the bank. That's why we offer competitive pricing options and transparent estimates, so you can make an informed decision.
Schedule Heat Pump Repair Services in West Los Angeles Today
Don't let a malfunctioning heat pump disrupt your comfort. Contact Lenco Heating & Air Conditioning today to schedule professional heat pump repair in West Los Angeles. Our dedicated team is committed to providing exceptional customer service and restoring your heat pump's functionality efficiently. Trust us to keep your home comfortable year-round. Call now for a consultation!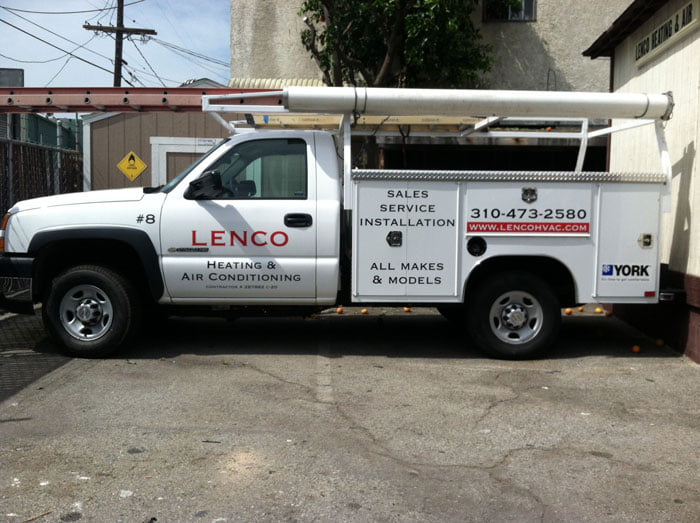 Contact Lenco for Heat Pump Repair in West LA