Heating & Air Conditioning in Westwood, CA
When it comes to reliable heating and air conditioning services in Westwood, CA, look no further than Lenco Heating & Air Conditioning. As your trusted HVAC specialist, we have been serving the community with exceptional services for years. Our team of certified technicians is dedicated to providing top-quality solutions for all your heating and cooling needs, including air conditioning installation.
At Lenco Heating & Air Conditioning, we understand the importance of a well-functioning air conditioning system, especially during hot summer months. Whether you need routine maintenance to keep your current system running smoothly, repairs to fix any issues, or a brand-new installation, we have the expertise and experience to handle it all.
Air Conditioning Installation
When it comes to air conditioning installation in Westwood, our team will work closely with you to determine the best system for your home or business. We take into consideration factors such as the size of your space, energy efficiency, and your specific cooling needs. Our goal is to provide you with a customized solution that ensures optimal comfort and cost savings.
Our HVAC  Services
Lenco provides a wide range of services to meet all your heating and air conditioning needs in Westwood. Our services include:
HVAC Maintenance: Regular maintenance is essential to keep your system running smoothly and efficiently. Our team will perform a comprehensive inspection and tune-up to ensure optimal performance.
HVAC Repair: If your HVAC system breaks down, we're here to help. Our experienced technicians will diagnose the issue and provide fast and reliable repairs.
HVAC Installation: Whether you're building a new home or replacing an old system, we offer high-quality installation services. We'll help you choose the right system for your needs and ensure a seamless installation process.
Indoor Air Quality: Poor indoor air quality can lead to health problems and discomfort. Our indoor air quality solutions will help you breathe easier and enjoy a healthier home.
Why Choose Lenco?
At Lenco, we're dedicated to providing the highest level of service to our customers. Here are just a few reasons to choose us:
Experienced Technicians: Our team of certified technicians has years of experience in the HVAC industry.
Competitive Pricing: We offer fair and transparent pricing on all our services.
Quality Products: We use only the highest-quality products to ensure optimal performance and longevity.
Customer Satisfaction: We strive for 100% customer satisfaction on every job we do.
Contact Us Today
Don't let HVAC problems disrupt your comfort. Contact Lenco today to schedule service or to learn more about our heating and air conditioning services in Westwood, CA. We look forward to serving you!
Mike came out and assessed my air conditioning needs. His suggestions were accurate resulting in installing a unit in my kitchen. His team of able guys did an excellent job during the installation. They were timely, clean and respectful. I am very happy with my new Mitsubishi Spliter in the kitchen. Thank you Lenco!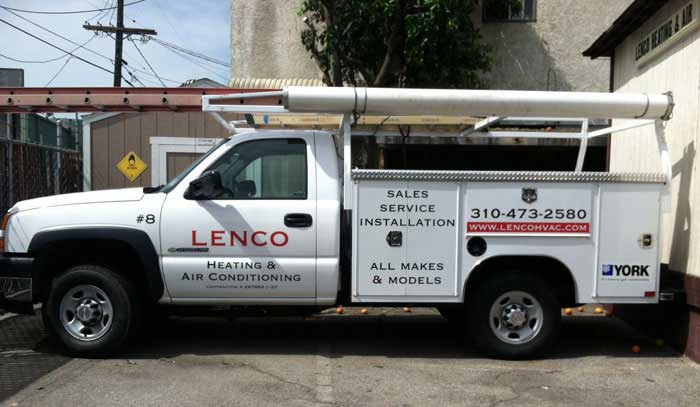 Contact us for heating & air conditioning in Westwood, CA