Air Conditioning Installation in Venice, CA
When it comes to air conditioning installation in Venice, CA, Heating & Air Conditioning is the trusted HVAC contractor to rely on. Our team of experts specializes in professional installations, providing you with efficient cooling solutions for your home.
As an authorized dealer of York products, we offer top-quality air conditioning systems known for their reliability and energy efficiency. With Lenco, you can have peace of mind knowing that your air conditioning installation is in the hands of experienced professionals.
Whether you need a replacement for your existing system or require a brand-new installation, our skilled technicians will assess your needs and recommend the most suitable York product for your home. We pride ourselves on delivering reliable and efficient installations that ensure your home remains cool and comfortable all year round.
Don't let the heat get the best of you. Contact Lenco today for professional air conditioning installation in Venice, CA. Our team is ready to provide you with exceptional service and the ultimate home comfort you deserve.
Reliable Air Conditioning Repair in Venice, CA
For reliable air conditioning repair services in Venice, CA, trust the expertise of Lenco Heating & Air Conditioning. We understand the importance of a properly functioning air conditioning system, especially during the hot summer months. Our skilled technicians are equipped to handle all types of AC repairs, from minor fixes to complex issues. With our extensive knowledge and experience, we can quickly diagnose and resolve any problems with your air conditioning unit. We pride ourselves on providing prompt and efficient repair services to restore your cooling system's performance and ensure your comfort. Count on Lenco for reliable air conditioning repair in Venice, CA.
Suzanne C. - Venice, CA
I have got to say that I think these guys are excellent. After having a bad experience with two 'repair guys', Lenco sent the greatest service engineer, Frank who was prompt, courteous and knowledgeable. The other two guys wanted to sell and install a new thermostat without even looking at the heater. Frank, on the other hand, went and looked at the heater, determined it an entirely different issue and he tried to sell me NOTHING. I asked how I could improve heat retention in my 100 year old bungalow, Frank assessed the ducts below the house, shot photos on his phone and said that only two or three of the 8 ducts needed attention, but that the rest were fine. He promised to have an estimate to me after the long holiday weekend. I could not have asked for better and more honest service.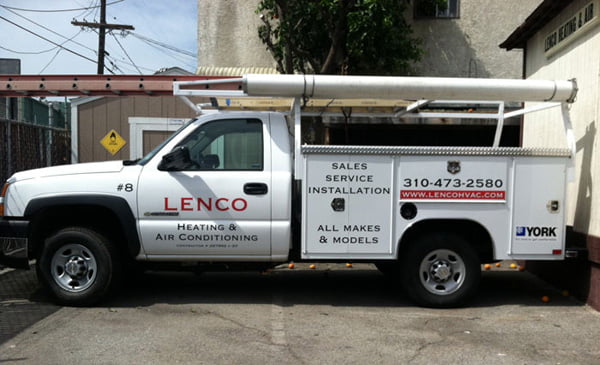 Get an estimate for Air Conditioning Installation
in Venice, CA