Air Conditioning Repair in Cheviot Hills, CA
Looking for trusted AC repair services in Cheviot Hills, CA? Look no further than Lenco Heating & Air Conditioning. Our team of experienced technicians is dedicated to providing top-notch air conditioning repair services to keep your home or business cool and comfortable all year round.
At Lenco Heating & Air Conditioning, we understand how frustrating it can be to have a malfunctioning AC unit. That's why we offer fast, reliable, and trustworthy air conditioning repair services to get your system back up and running in no time. Our technicians are highly trained and experienced in repairing all types of AC systems, including central air, ductless mini-splits, and more.
With our state-of-the-art equipment and techniques, we can diagnose and repair your AC unit quickly and efficiently. We take pride in providing quality workmanship and customer satisfaction on every job we do. Whether you need a minor repair or a complete system overhaul, we are here to help.
You can trust us to provide the best possible service and value for your money. Contact us today to schedule your air conditioning repair service in Cheviot Hills, CA, and experience the Lenco Heating & Air Conditioning difference.
Air Conditioning Replacement
Unfortunately, there are situations where an air conditioning unit cannot be repaired. If you find yourself in this situation, Lenco Heating & Air Conditioning can provide replacement services to ensure your home or business stays cool and comfortable.
When considering an AC replacement, there are several factors to consider. The age of your current unit is one of the most significant. If your AC unit is more than 10 years old, it may be more cost-effective to replace it rather than continuing to pay for repairs. Additionally, if your unit has a history of frequent breakdowns or requires expensive repairs, replacement may be the more practical solution.
At Lenco Heating & Air Conditioning, we offer a variety of high-quality AC units from top brands to fit your budget and specific needs. Our experienced technicians can help you choose the right unit for your home or business and provide professional installation services to ensure your new system runs efficiently and effectively. We also offer financing options to make AC replacement more affordable for our customers. Contact us today to learn more about our AC replacement services.
George M. - Culver City, CA
Second time we've had Lenco out to service our HVAC system. Last year Mike came, this year it was "T" who came. Always very professional and explained what they were doing. I got a phone call from "T" a few minutes before he arrived to let me know he was nearby. Arrived right on time and performed the service. Had our A/C running again in right away.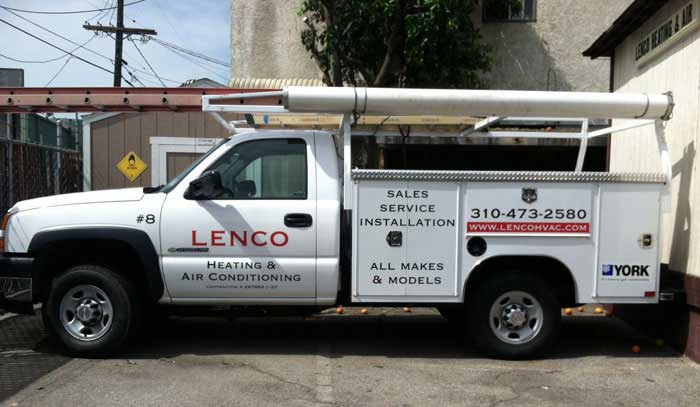 Get Air Conditioning Repair in Cheviot Hills